@CentralWildcatVolleyball welcomes the Knights of Episcopal to #TheDen TONIGHT! Come help us "build" an unbreakable wall of fans to cheer them on to a W! #WeAreCentral #GeauxWildcats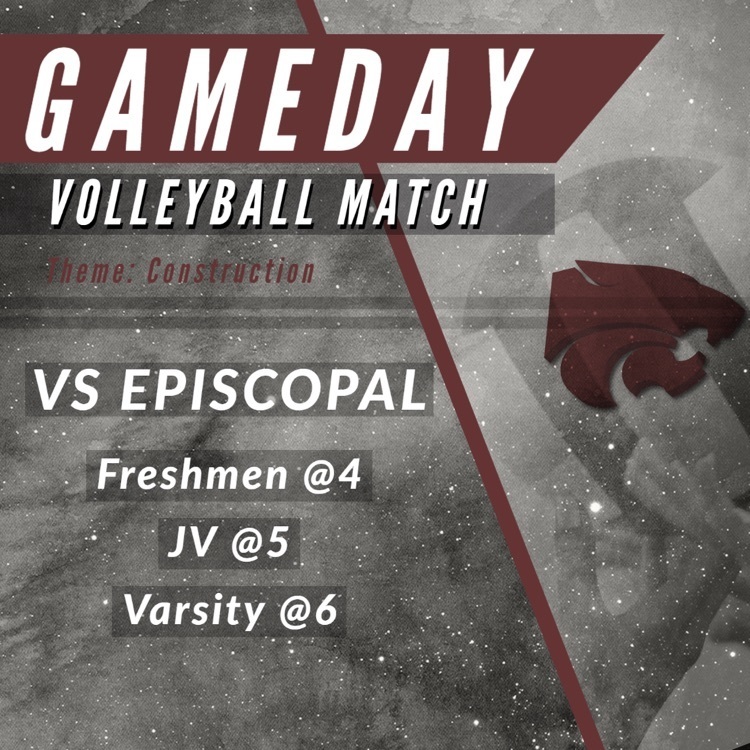 SENIORS, Come out to the CHS Theater TONIGHT as LOSFA shares details about FAFSA and other information in regard to financial aid. #WeAreCentral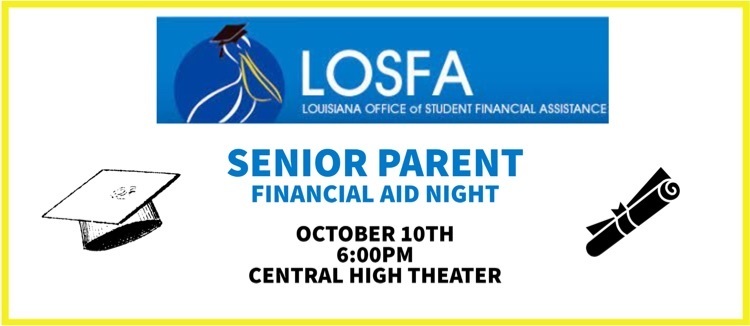 Come out tonight to support your JV Wildcats going against the Catholic Bears at 6 in the Wildcat Stadium!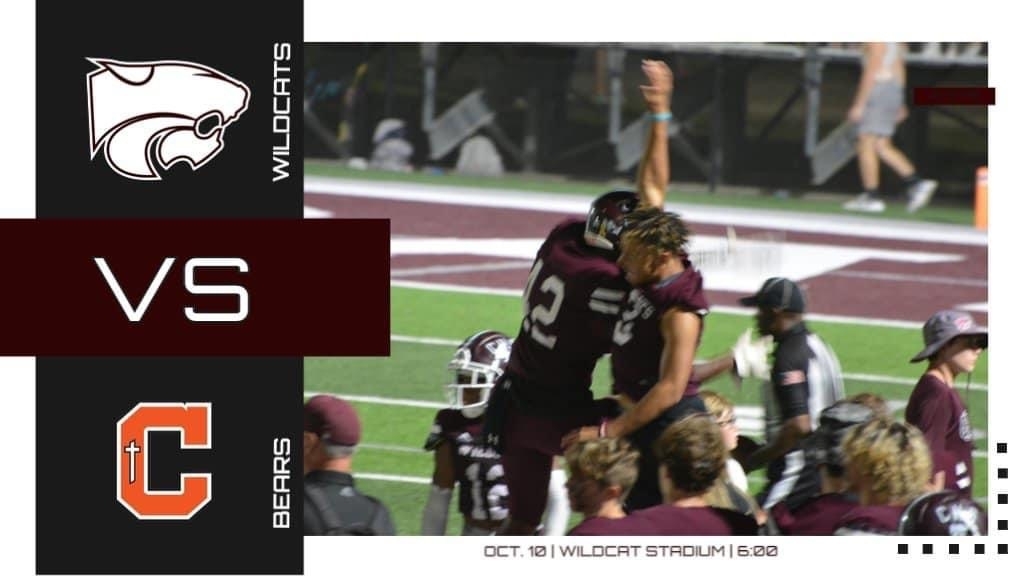 Central Wildcat Volleyball welcomes the Panthers of Woodlawn to #TheDen TONIGHT for their first district match-up of the season. Come light up the stands with your best NEON and help cheer them on! #WeAreCentral #GeauxWildcats🐾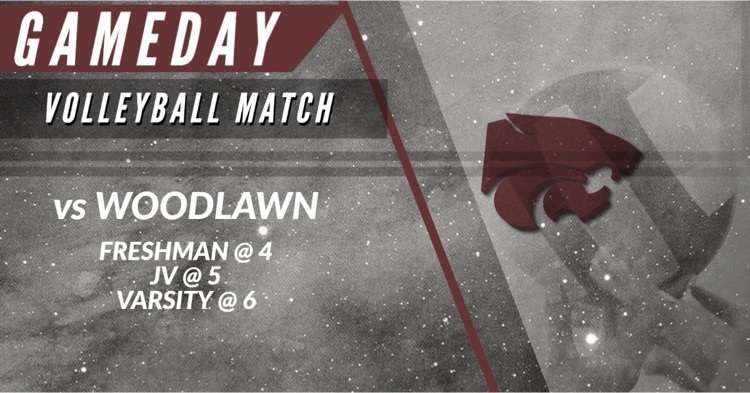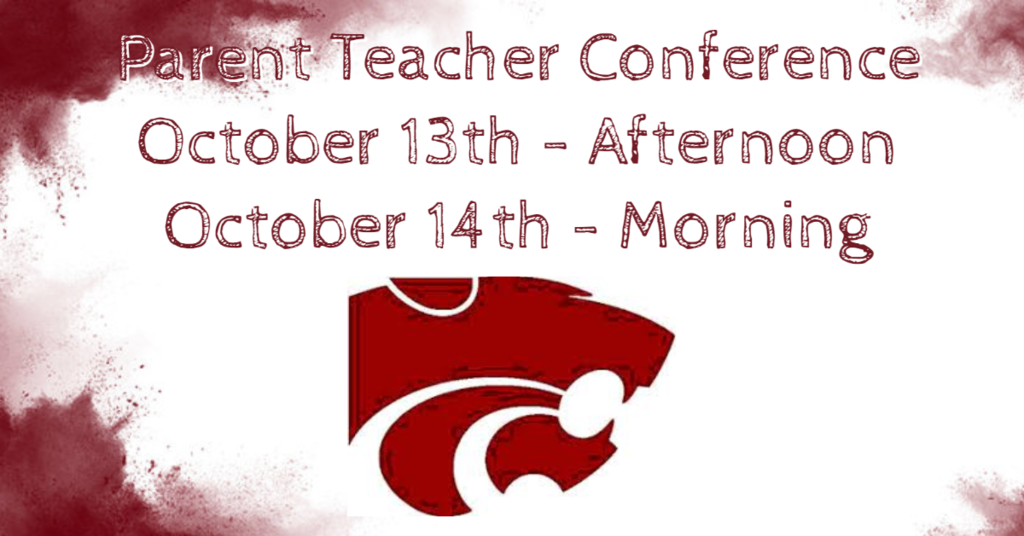 CHS Parents, join us for an informational presentations by Ochsner Health! October 18th at 6pm in the CHS Theater.

LOSFA will be on campus Monday October 10th to share with Senior Parents details in regard to FAFSA and other important financial information and to answer questions.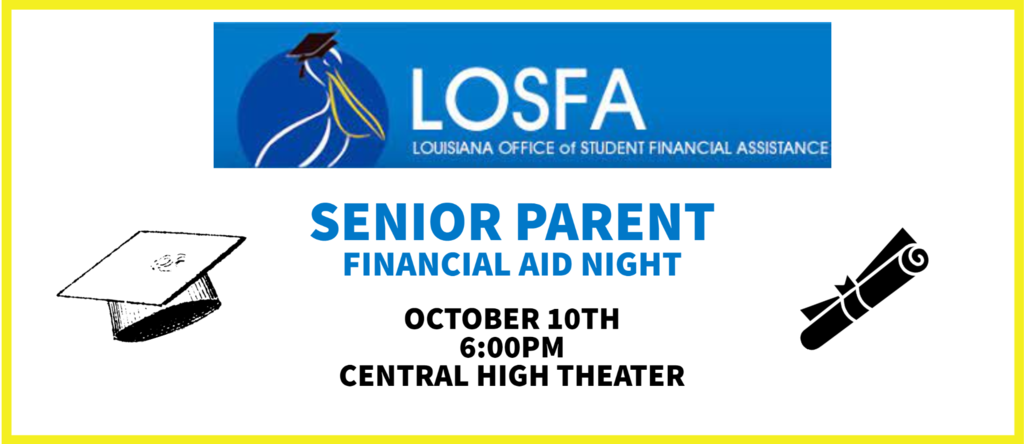 School picture Order Deadline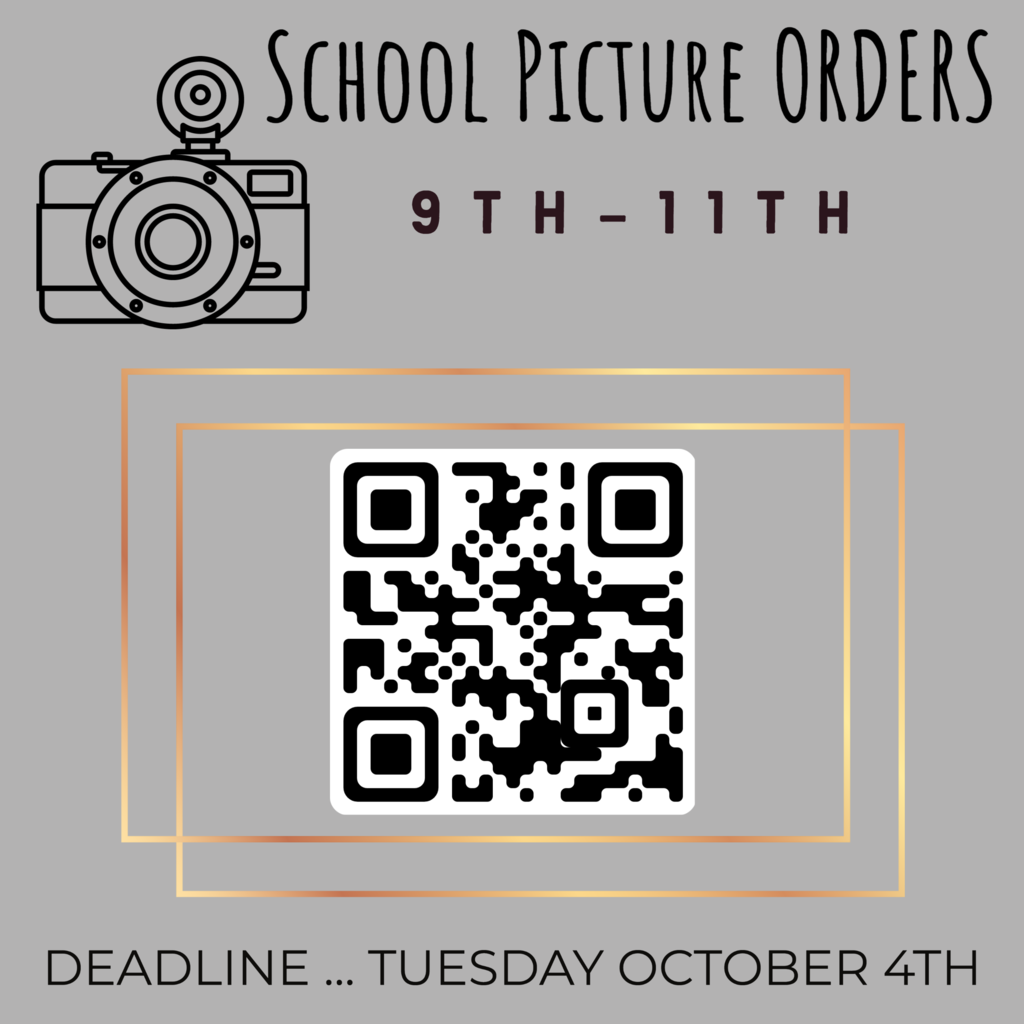 French club meeting!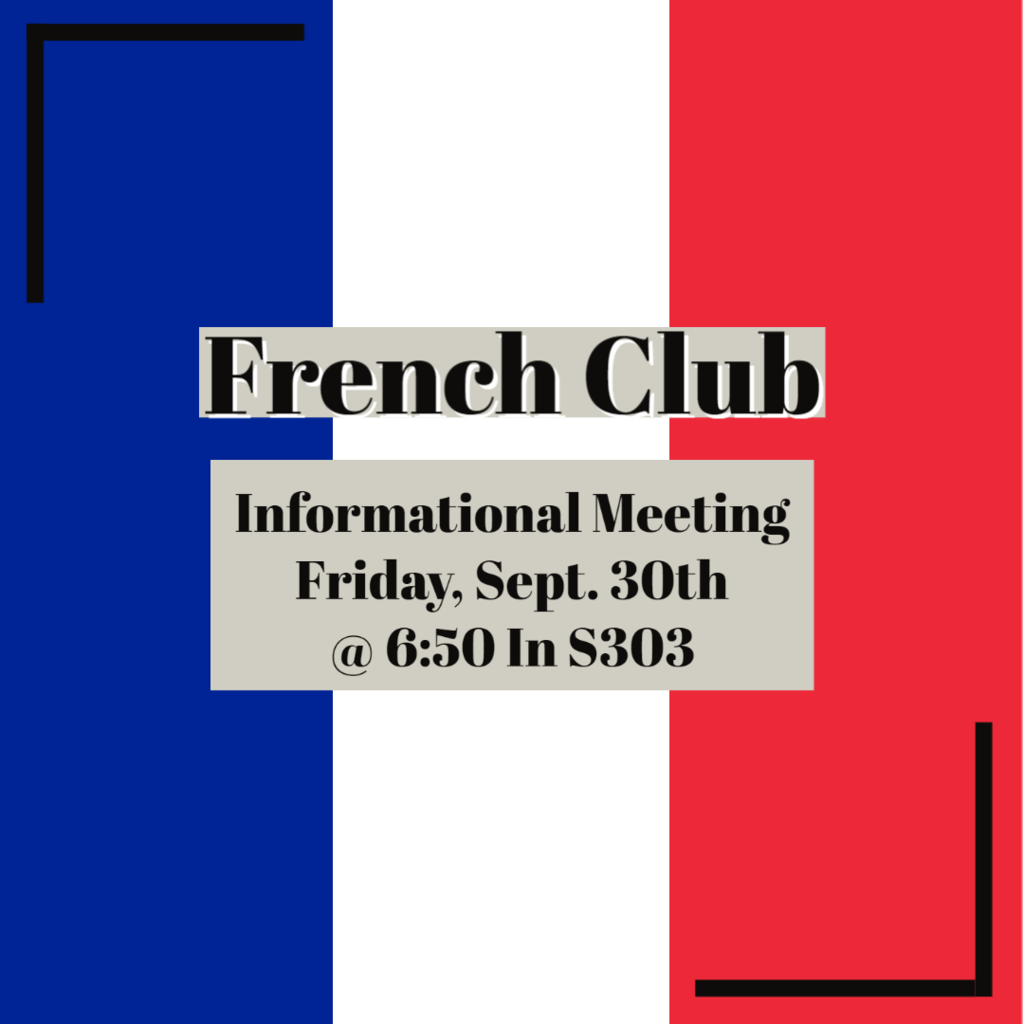 CHS stadium guidelines for the 2022 Wildcat Football season are attached. Please look over these guidelines to ensure an easy entry process. #WeAreCentral #GeauxWildcats #TheWildcatWay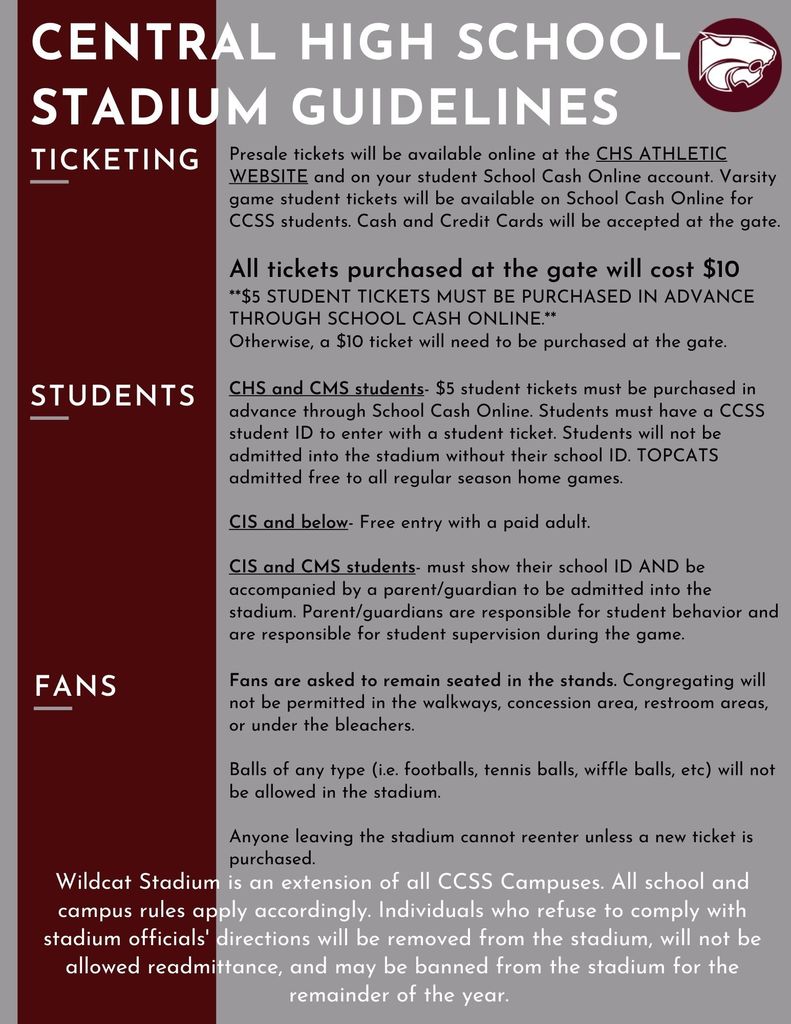 We can't wait to ring in the new school year with our CHS Back to School Bash Pajama Jam TONIGHT! A few notes before you arrive ... - Drop off in North Lot ... Please have rides arrive for pickup prior to 9:00pm - Student drivers should park in the North Lot or Academy Lot - Entrance is through the North Lot N4 doors. - You must have your current CHS ID to enter! - Attire: You may dress to the theme with appropriate wear. Onesies must have clothing worn underneath You do not have to dress for the theme, but must be appropriate. - Student are to remain in designated areas throughout the evening (Gym, Theater, Commons, Central Perk) *WeAreCentral #getinvolved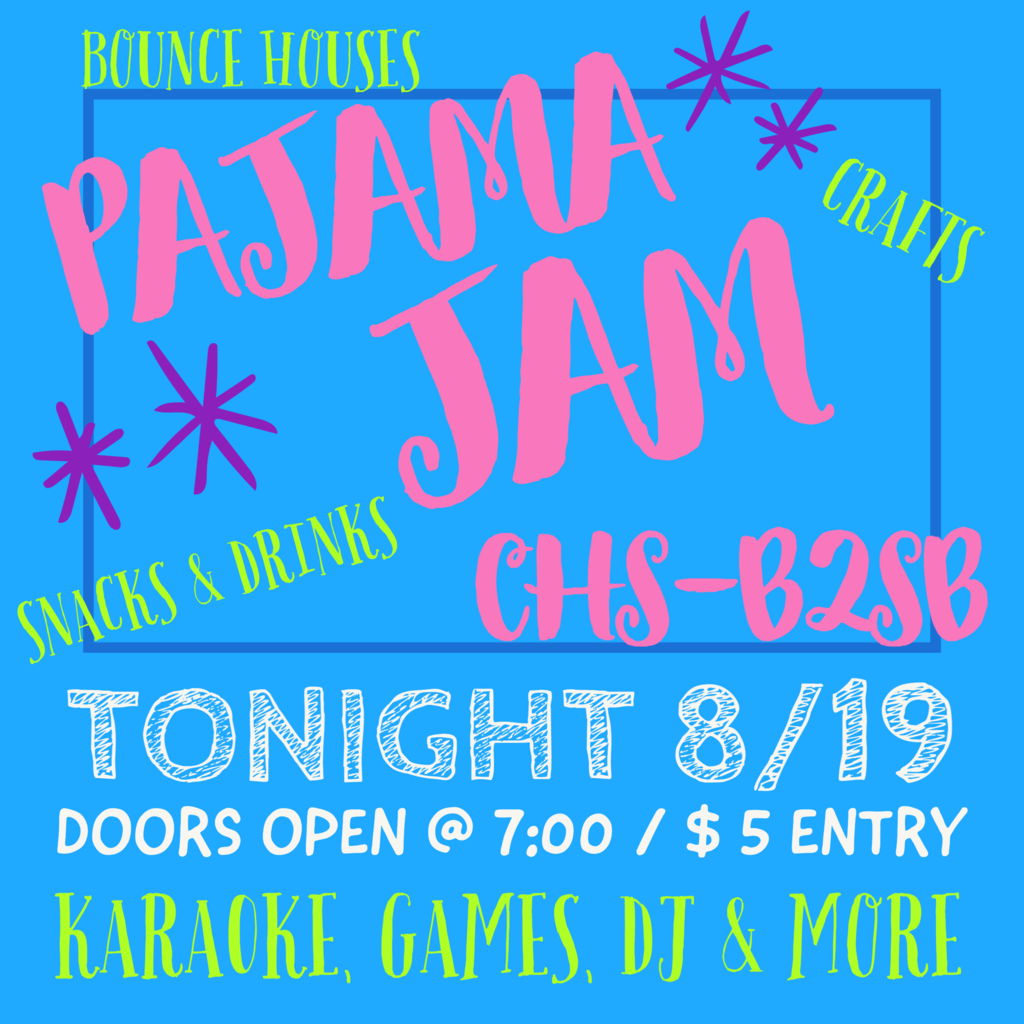 Lady Wildcat Basketball Tryouts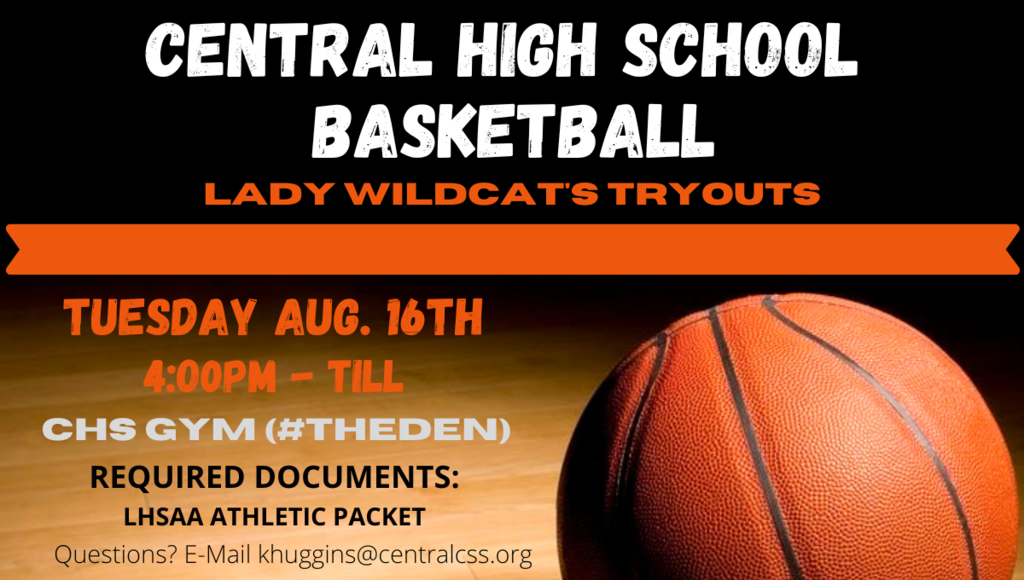 Good Evening #Wildcats! We hope you had a great weekend and are ready for our first full week. Each Sunday night we will share information with you that you will want to know to help get your week started. Take a look at what you can expect for this week! #WeAreCentral #bettertodaythanyesterday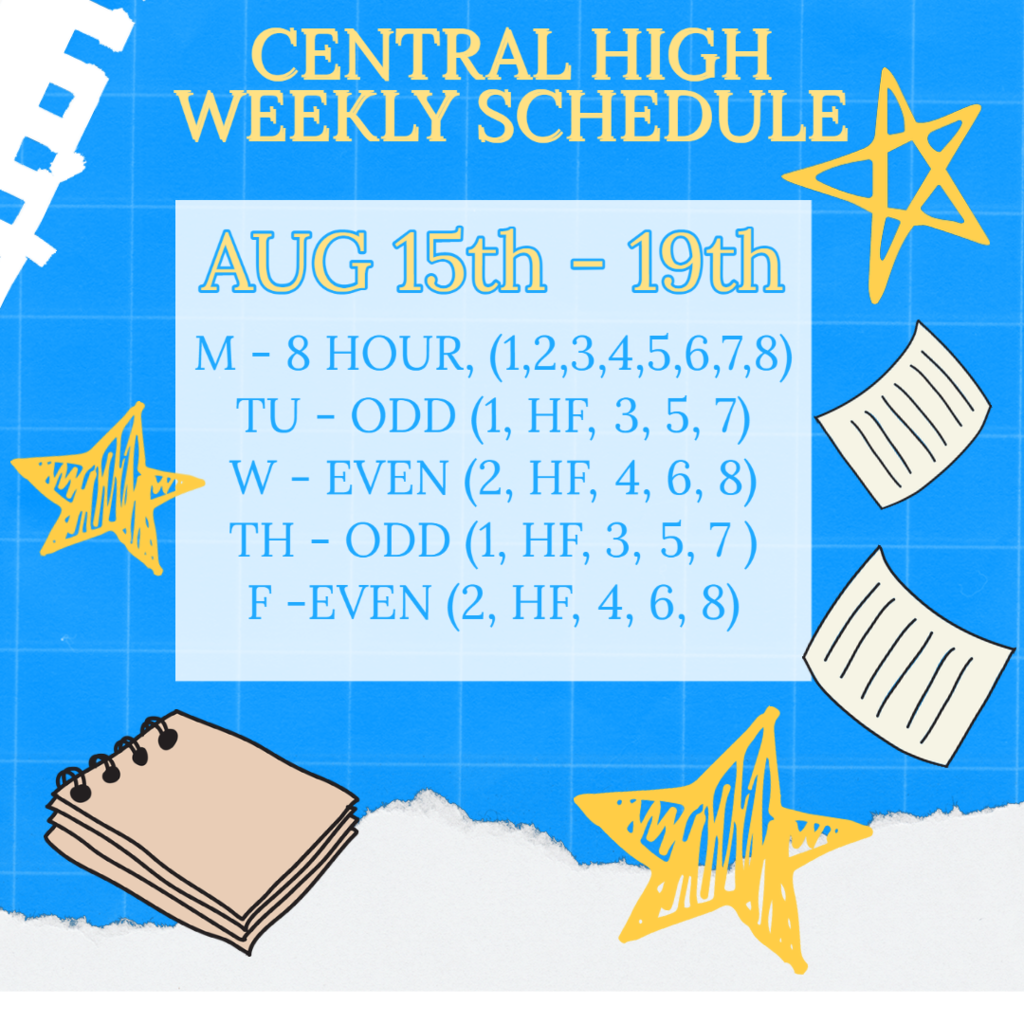 We had an amazing 1st day of the new school year … we started out the morning with a visit from @WBRZ, our Class of 2023 celebrated with our Senior Sunrise, during Homeflex our Seniors & Freshman toured the school while our Sophomores & Juniors learned a bit about each other in the @CKH name game, and our faculty enjoyed a sweet treat from our friends Greenwell Springs Baptist Church! We can't wait to see what tomorrow brings! #WeAreCentral #capturingkidshearts #commUNITY #bettertodaythanyesterday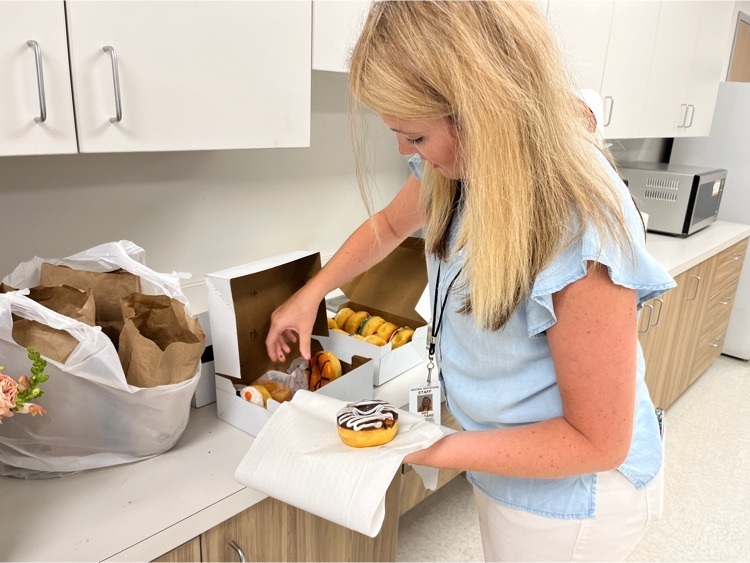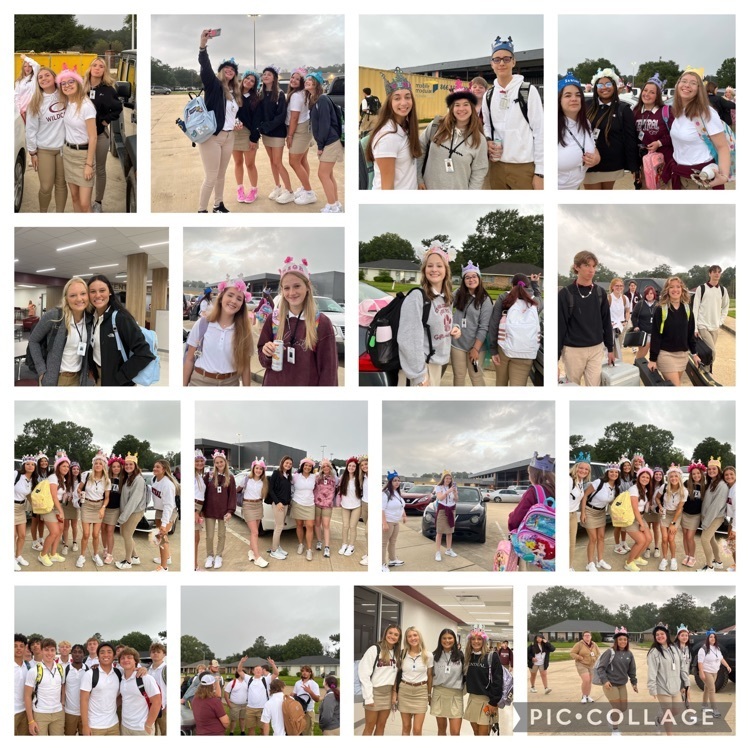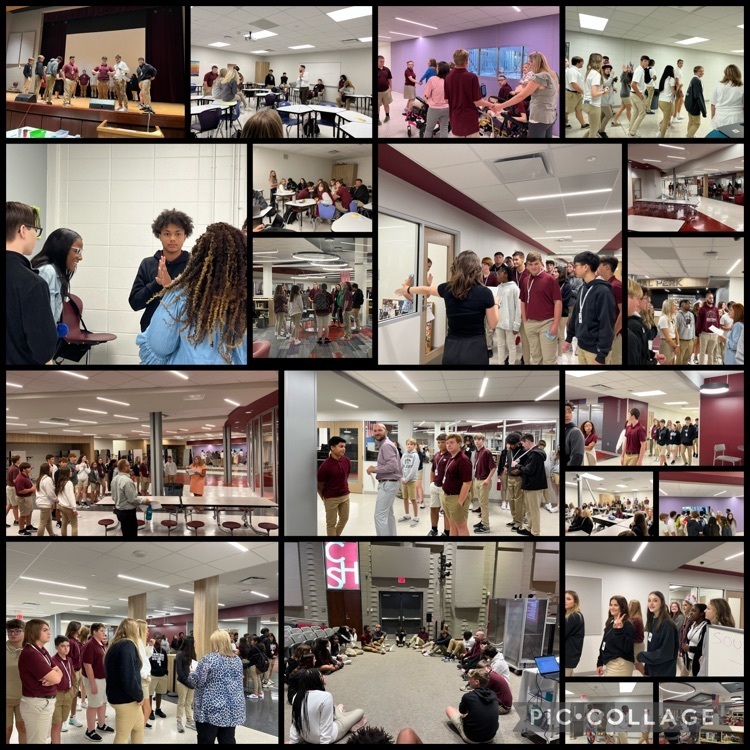 CHS HF Extended Bell Schedule Thursday 8/11 & Friday 8/12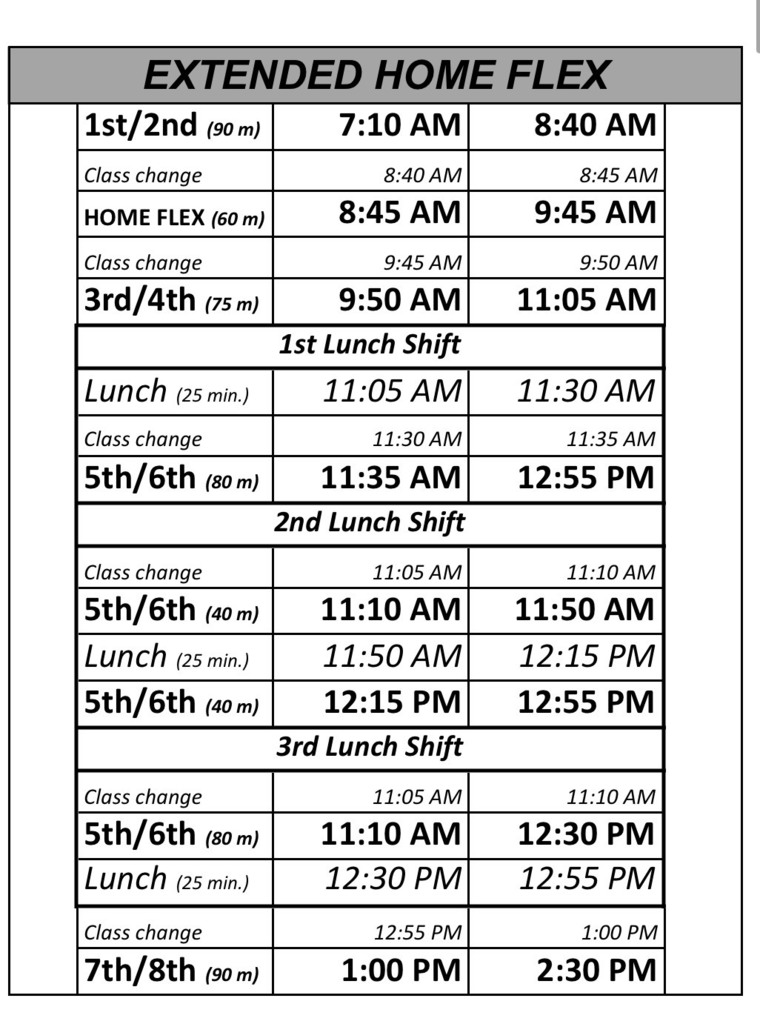 CHS Cell Phone & Accessories Guidelines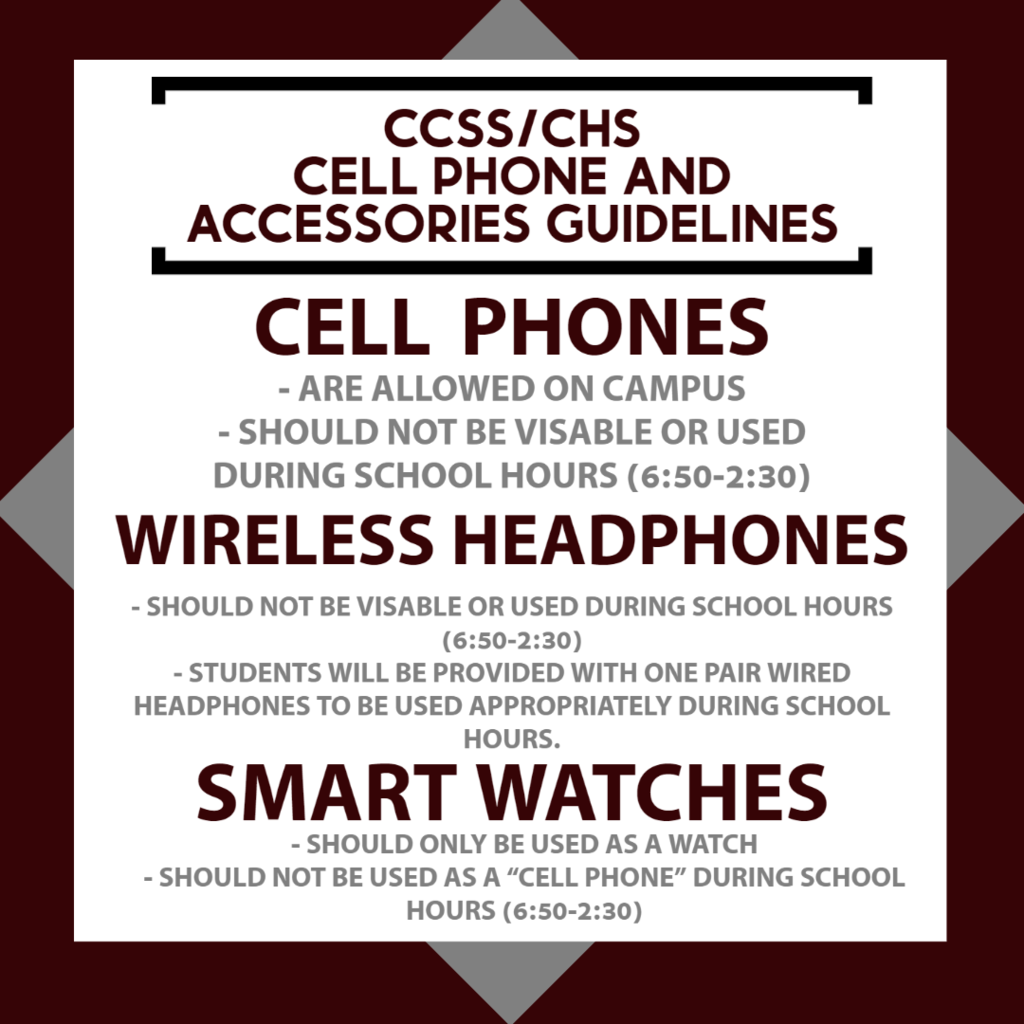 CHS Dress Guidelines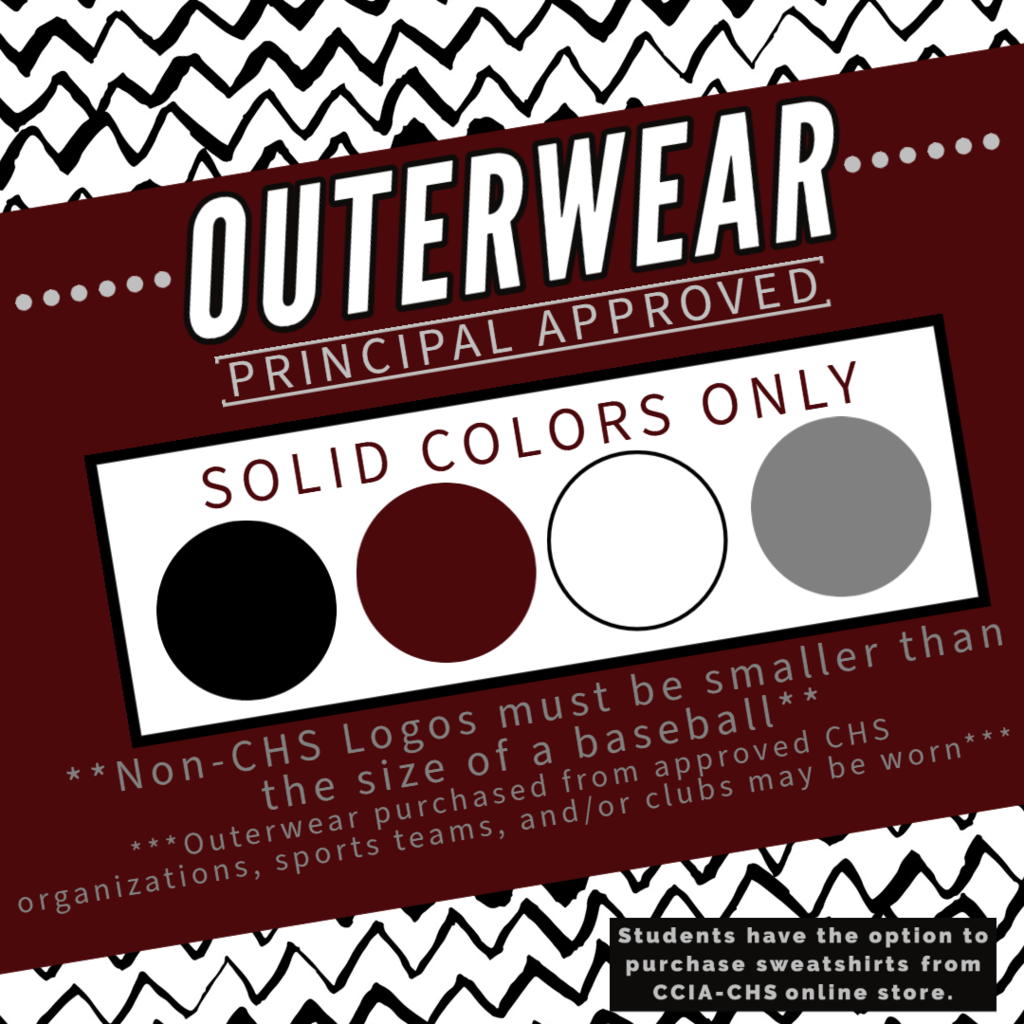 CHS Carpool & Parking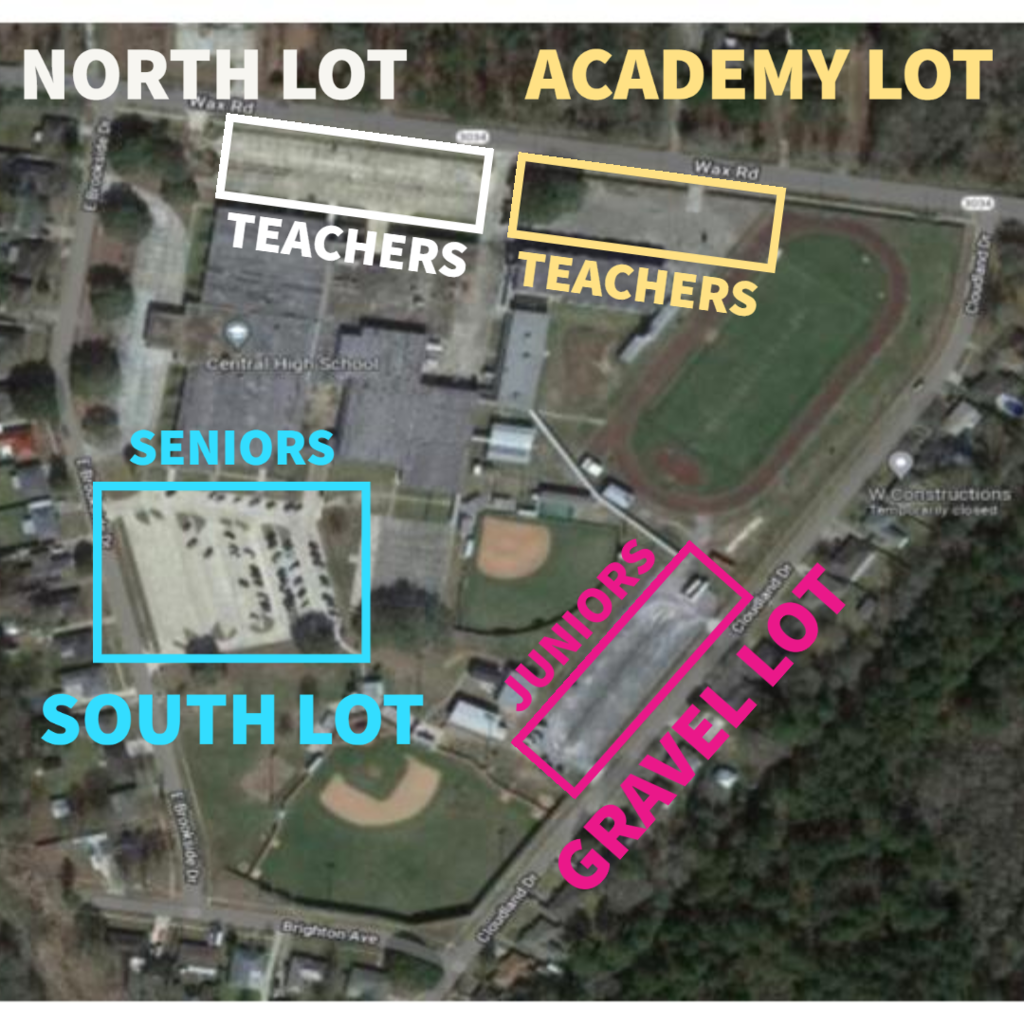 It's time #Wildcats ... Back to School time! Before you arrive tomorrow we want to update you and remind you of a few important details: - Carpool will take place in the North Lot. For your safety we ask that you do not make a left hand turn out of the lot. - Parking ... Seniors are to park in the South Lot with overflow to the Academy Lot and Juniors are to park in the Gravel Lot. - What to wear ... Please review the Dress Guidelines as well as the Outerwear Guidelines to be sure you are in compliance. - Cell Phones and Accessories ... Be sure to look over the guidelines provided or check out the details on page 37 #5 in the Student Handbook. - Entrances ... Bus riders will enter through the front doors, student drives may enter through S3, N2, or Courtyard (Annex) doors. - Breakfast ... Students will Grab & Go and then head to their 1st block of the day to meet their teacher and eat. - Student Schedules ... Students will report to 1st block (don't know your 1st block, look for an email this evening; didn't get an email, find a teacher in the morning to help) and receive an updated schedule. - Tomorrow is an ODD Day. You will got to 1st, HF, 3rd, 5th, & 7th blocks. - Bell Schedule ... Our Bell Schedule looks a bit different tomorrow, take a look at the graphic attached.

Student Drivers, it's the announcement you have been waiting for! Mrs. Gina is moved into her office and is ready to see your excited faces. Be sure to review the info and complete the task in the graphic attached below prior to coming by to pick up your pass. @centralhighbr